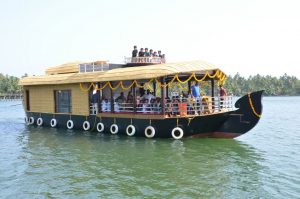 School and Staff trip in Holidays
If you are looking for one day group trip then Call Happy House Boat: 9526200400
We give you maximum entertainment in different segment with House Boat Travel and entertainment @ River Nileshwar.
We have the only solutions for better service with better package with affordable price.
Get discount on Above 25 Members package in day cruise.
The day cruise package will cover 6 hours journey and view the beauty of nature.
The Very House boat kitchen food is the most attractive in these packages, Kerala sadhya with fish fry is common all are choosing for lunch.
Monkey Land visit will give you more relaxation on the trip time, Sea mouth joining area is the prime attraction.
Club your package with Bekal fort and Beach Park will get maximum utility for the package
Enjoy your April Mal Holidays with Happy house boat Nileshwar
Tag: Houseboat Nileshwar, Houseboat Bekal, Houseboat Kasaragod, House boat Kottappuram, Kottappuram House Boat, Nileshwar Houseboat, Kasaragod House boat, valiyaparamba backwater