Nileshwaram or Nileshwar or Neeleswaram is a municipality and a major town in Kasaragod District, state of Kerala, India. It is one of the three municipalities in Kasaragod district; the others are Kasaragod and Kanhangad. Nileshwar is referred to as the cultural capital of Kasaragod, the northernmost district, of Kerala. "The first Chief Minister of Kerala and communist leader E. M. S. Namboodiripad had contested elections to the Assembly from the Neeleswaram segment.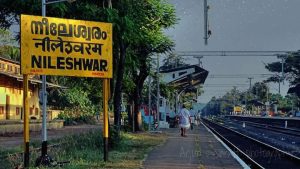 History
Neeleswaram, or Nileswaram, is the abbreviated form of Neelakanta Ishwaran. It was historically the seat of the Neeleswaram Rajahs, who belonged to the clans of the Kolathiri and Zamorins. The Nileshwar Rajahs and the Bednore Nayaks battled in this area.
The grand finale of the annual temple festival season takes place in this area, which is known for its "kavus", or sacred groves. The most famous of the sacred groves is the Mannampurathu Kavu. The town is also known for Theyyam, the ritualistic art form.
In 1918, the Rajah's High School was established, it was one of the first north Kerala schools of its kind. The school retains a letter written to the students by Mahatma Gandhi on his way in 1928 to Mangalore. It was part of a broad appeal for people to rally behind the national movement.
 Religion
Most of the people are Hindus, followed by Christians and Muslims. To a lesser extent, there are Jain and Buddhists. The name Nileshwar is derived from the name of a temple Thaliyil Siva Temple (Neelakanteshwaran), and the culture of the town is based in large part by its temples, like Thaliyil Siva Temple, Mannam Purath Kaavu, Shri Gopalakrishna Temple and Vaikunda Temple.
Tourism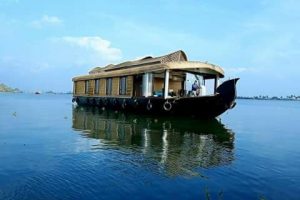 House boat and Beach side resorts is the main tourist attacation in Nileshwaram, around  20 houseboats available in Nileshwar Tejaswini River one bedrooms to three bedrooms deluxe and premium types.
Around four beach side reorts and homestays available with all modern amenities
For booking Houseboat and Beach Resorts Call now: 9526200400