Boat house Stay- We will arrange the cultural programme in house boat based on the customer requirements. This will cost extra.
This cultural programme  with three classical dance performance in house boat is Mohiniyattam, Bharathanatyam and Kuchuppudi, this event will arrange in house boat within one hour total duration and each performance will take less than 10 Min.
About each programme details is here below
Mohiniyattam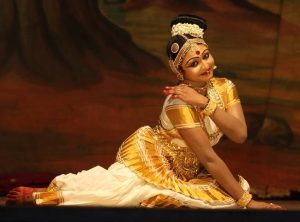 Mohiniyattam, also spelled Mohiniattam (Malayalam: മോഹിനിയാട്ടം), is one of two classical dances of India that developed and remain popular in the state of Kerala. The other classical dance form from Kerala is Kathakali. Mohiniyattam dance gets its name from the word Mohini – a mythical enchantress avatar of the Hindu god Vishnu, who helps the good prevail over evil by deploying her feminine powers.
Mohiniyattam's roots, like all classical Indian dances, are in the Natya Shastra – the ancient Hindu Sanskrit text on performance arts. However, it follows the Lasya style described in Natya Shastra, that is a dance which is delicate, eros-filled and feminine. It is traditionally a solo dance performed by women after extensive training. The repertoire of Mohiniyattam includes music in the Carnatic style, singing and acting a play through the dance, where the recitation may be either by a separate vocalist or the dancer herself. The song is typically in Malayalam-Sanskrit hybrid called Manipravala.
Bharatanatyam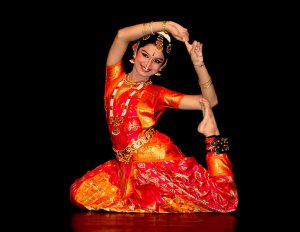 Bharatanatyam, sometimes referred to as Bharathanatiyam or Sadir, is a major genre of Indian classical dance that originated in Tamil Nadu. Traditionally, Bharatanatyam has been a solo dance that was performed exclusively by women, and expressed Hindu religious themes and spiritual ideas, particularly of Shaivism, but also of Vaishnavism and Shaktism.
Bharatanatyam's theoretical foundations trace to the ancient Sanskrit text by Bharata Muni, Natya Shastra, its existence by 2nd century CE is noted in the ancient Tamil epic Silappatikaram, while temple sculptures of 6th to 9th century CE suggest it was a well refined performance art by mid 1st millennium CE. Bharatanatyam may be the oldest classical dance tradition of India.
Kuchipudi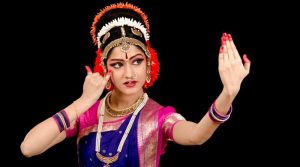 Kuchipudi  is one of the eight major Indian classical dances. It originated in a village named Kuchipudi in the Indian state of Andhra Pradesh.
Kuchipudi is a dance-drama performance art, with its roots in the ancient Hindu Sanskrit text of Natya Shastra. It developed as a religious art linked to traveling bards, temples and spiritual beliefs, like all major classical dances of India. Evidence of Kuchipudi's existence in an older version are found in copper inscriptions of the 10th century, and by the 15th century in texts such as the Machupalli Kaifat. Kuchipudi tradition believes that Tirtha Narayana Yati – a sanyassin of Advaita Vedanta persuasion, and his disciple an orphan named Siddhendra Yogi founded and systematized the modern version of Kuchipudi in the 17th century.  Kuchipudi largely developed as a Hindu god Krishna-oriented Vaishnavism tradition, and it is most closely related to Bhagavata Mela performance art found in Tamil Nadu.