Mainly we are giving a preference for Kerala Sadhya for Houseboat Lunch , all the items preparing in the houseboat kitchen
Kerala Sadya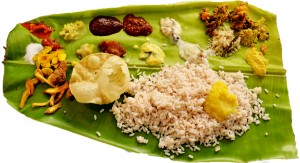 The main dish is plain boiled rice, served along with other dishes collectively called Kootan (കൂട്ടാന്‍) which include curries like Parippu, Sambar, Rasam, Pulisseri and others like Kaalan, Avial, Thoran, Olan, Pachadi, Mango pickle, Naranga curry, as well as Papadum, Banana, plain Yogurt or Buttermilk, and plantain chips. The traditional dessert called Payasam served at the end of the meal is of many kinds and usually three or more are served. The 'Kootan' are made with different vegetables and have different flavours; some say the reason for including so many dishes in the Sadhya is to ensure that the diners will like at least two or three dishes.
The dishes are served on specific places on the banana leaf in specific order. For example, the pickles are served on the top left corner and the banana on the bottom left corner, which helps the waiters to easily identify and decide on offering additional servings. The most common ingredients in all the dishes are rice, coconut and coconut oil as they are abundant in Kerala. Coconut milk is used in some dishes and coconut oil is used for frying and also as an ingredient in others.
There are variations in the menu depending on the place and religion. Some communities, especially those in the northern part of Kerala, include non-vegetarian dishes in the sadhya. Although custom was to use traditional and seasonal vegetables, it has become common practice to include vegetables such as carrots, pineapples, beans in the dishes. Tradition has it that Onion and garlic are not typically used in the sadhya. Conventionally, the meal may be followed by vettila murukkan, chewing of betel leaf with lime and arecanut. This helps digestion of the meal and also cleanses the palate.