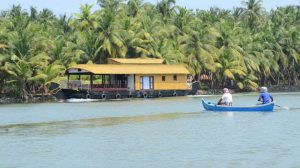 Valiyaparamba Houseboat is located 5 kilometres (3.1 mi) south west of Cheruvathur separated from the mainland by Kavvayi Backwater and about 30 kilometres (19 mi) from Bekal, Kasaragod, north Kerala. The island is approximately 16 km2 (6 sq mi) in size with a population of 10,000. The island's main source of income come from agriculture and fishing. The Island has 13 wards ruling by each ward member to leading the Valiyaparamba Panchayathu.
Valiyaparamba is fed by four rivers and dotted with numerous little islands, Valiyaparamba is fast turning into a much favoured backwater resort that offers enchanting boat cruises. Valiyaparamba, a hinterland separated from the mainland, is a noted fishing centre in the district and is just an hour drive from Bekal – one of the most enchanting beaches of Kerala. The Bekal fort which stands on a headland that runs into the sea offers a spectacular view of the surroundings.The National Water Way passes through this beautiful Island and foreign tourist halt here for few hours on the way to Bekal in house boat.
The island has 7 Primary Schools, 1 High School and 1 Higher Secondary School. The Mangrove Trail of Malabar is a day trippers visiting place about 20 km (12 mi) from Valiaparamba.It is a coastal Jungle trail offering hiking, birding & boating. For houseboat booking Call now: 9526200400.