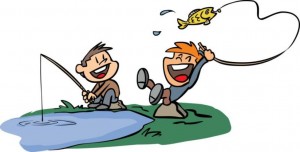 Fishing From Houseboat is the activity of trying to catch fish. Fishing sometimes takes place in the wild. Techniques for catching fish include hand gathering, spearing, netting, angling and trapping.
Here from houseboat were are following Angling method
Angling is a method of fishing by means of an "angle" (fish hook). The hook is usually attached to a fishing line and the line is often attached to a fishing rod. Fishing rods are usually fitted with a fishing reel that functions as a mechanism for storing, retrieving and paying out the line. The hook itself can be dressed with lures or bait. A bite indicator such as a float, and a weight or sinker are sometimes used.
Angling is the principal method of sport fishing, but commercial fisheries also use angling methods such as long lining or trolling. Catch and release fishing is increasingly practiced by recreational fishermen. In many parts of the world, size limits apply to certain species, meaning fish below and/or above a certain size must, by law, be released.