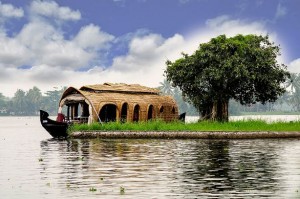 Kerala houseboat in south India, are huge, slow-moving barges used for leisure trips. They are a reworked model of Kettuvallams (in the Malayalam language, Kettu means "tied with ropes", and vallam means "boat"), which, in earlier times, were used to carry rice and spices from Kuttanad to the Kochi port. Kerala houseboats were considered a convenient means of transportation.
The popularity of Kettuvallams has returned in the function as major tourist attractions.
Such a houseboat is about 60 to 70 feet (18 to 21 m) long and about 15 feet (4.6 m) wide at the middle. The hull is made of wooden planks that are held together by ropes of coconut fiber; the usual wood is 'Anjili'. The roof is made of bamboo poles and palm leaves. The exterior of the boat is painted with protective coats of cashew nut oil.