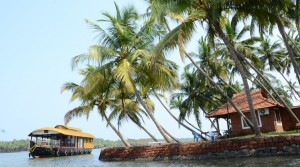 Welcome to the Mansoon season in house boat for enjoys the rain from backwater cruise.
Kerala does not have incessant rains that stop all activity. It rains for a few hours with sunny interludes. Occasionally the rains might stretch on for a few days but sunshine is never far away. These golden interludes provide equilibrium to life's natural flow
Kerala has mainly two rainy seasons. The Southwest Monsoon that arrives in the month of June is called Edavappathy, as it comes in the middle of the month of Edavam on the Malayalam Calendar.
Mid October witnesses the arrival of the Northeast Monsoon. In the Malayalam calendar this month is called Thulam and hence the name Thulavarsham meaning the 'The Rains in Thulam'. The rain clouds gather from the Bay of Bengal and hurry to Kerala through the Palakkad Gap in the Western Ghats. The swirling, jostling, billowing dark messenger of life sailing on the wings of northeast winds is a breathtaking sight to behold.
We happy house boat is ready to give your better offer on except holidays.
For more details call now: 9526200400