Happy House boat wishing you a Happy Onam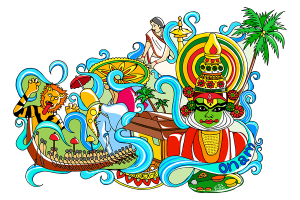 Onam is an annual Hindu holiday and festival with origins in the state of Kerala in India. It falls in the Malayalam calendar month of Chingam, which in Gregorian calendar overlaps with August–September. According to legends, the festival is celebrated to commemorate King Mahabali, whose spirit is said to visit Kerala at the time of Onam.
Onam is a major annual event for Malayali people in and outside Kerala. It is a harvest festival, one of three major annual Hindu celebrations along with Vishu and Thiruvathira, and it is observed with numerous festivities. Onam celebrations include Vallam Kali (boat races), Pulikali (tiger dances), Pookkalam (flower arrangement), Onathappan (worship), Onam Kali, Tug of War, Thumbi Thullal (women's dance), Kummattikali (mask dance), Onathallu (martial arts), Onavillu (music), Kazhchakkula (plantain offerings), Onapottan (costumes), Atthachamayam (folk songs and dance), and other celebrations.
Onam is the official state festival of Kerala with public holidays that start four days from Uthradom (Onam eve). Major festivities take places across 30 venues in Thiruvananthapuram, capital of Kerala. It is also celebrated by Malayali diaspora around the world. Though a Hindu festival, non-Hindu communities of Kerala participate in Onam celebrations considering it as a cultural festival.
Book your houseboat for Onam Celebration with onam sadhya call now: 9526200400