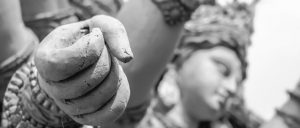 Puja Holidays in Boat House in Kerala is welcomes you
In India, Durga Puja is a public holiday in several states. The names and dates may differ and some states observe holidays related to the festivals of Dusserhra and Navrati which are celebrated on similar dates.
Traditions of Durja Puja
Durga Puja, also known as Durgotsava or Mahashtami, is a Hindu festival in South Asia that celebrates the worship of the goddess Durga.
Durga Puja celebrates the ten-armed mother goddess, and her victory over the evil buffalo demon Mahishasura.
While celebrated across India, In West Bengal, Assam and Tripura, it is the biggest festival of the year and the most significant cultural event in Bengali Hindu society.
The world was under threat from the evil buffalo demon Mahishasura, that no man or god could defeat. To vanquish the demon, Durga emerged from the collective energies of all the gods. Each of her ten arms brandished the deadliest weapon of each god. Durga was the mother to four gods, Kartikeya, Ganesha, Saraswati and Lakshmi.
To Hindus, Durga represents the embodiment of shakti, the powerful feminine force that governs all cosmic creation, existence and change.
Before his battle with Ravana, Lord Rama invoked the goddess and her victory over the buffalo-demon, which ties the festivals of Durga Puja and Dusserhra closely together.
Enjoy the holidays in house boat with different activities.
For booking Call now: 9526200400