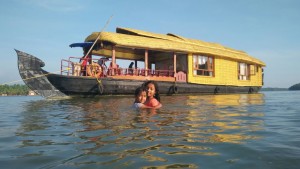 Welcome to Happy houseboat Bekal Kerala ,Houseboat Tourism has distinctly marked Kerala as God's own country., it is one of the prime attractions of Kerala houseboat tourism. Backwater tourism in Kerala is very popular among tourists from all over the world. The exciting backwater destinations of Alappuzha and Kumarakom but now Bekal Houseboat Nileshwar Tejaswini River houseboat service in Kasaragod District also Marked with a good Houseboat service add pride and prestige to our substantive travel and tourism space. Valiyaparamba Backwater cruising is indeed a magnificent experience of one's lifetime.
A cruise aboard all of our classy and elegant house boat pleasantly registers impressive views of the majestic expanse of backwater, fluttering migratory birds, and the palm-fringed farmer and fisherman villages in their charming, unobtrusive routine. Pertinently, our houseboats are luxuriously built bearing the best of world standards in the cruising crafts realm. Tourism Bekal House boats  Kerala are ideal for family vacation, business meetings, conferences, parties, and honeymoon holidays. For  honeymoon couples house boats holidays are like dream holiday in Kerala. There are lots of worth deserving opportunities for houseboat honeymoon couples on board house boats. Honeymoon couples from all over the world if visit Kerala then they surly want to spend few days of their honeymoon holiday on board house boats floating over the scenic backwaters of the state Kerala. Floating over the nature-packed waterways of the state, boat cruise provides honeymoon couples truly a romantic ambiance as well as amazing sightseeing at Azhithala, Valiyaparamba and Madakkal.
The class and character of our structural design and service schedule  of houseboat instantly deliver homey ease and total relaxation at North Kerala houseboat.
---
Tag: Bekal Fort House boat, Bekal Boat House, House boat Bekal, Boat House Bekal, Boat House near Bekal Fort,  Bekal Boat Stay, Bekal Tourism Houseboat, Bekal Three bedroom Houseboat, Bekal Two Bedrooms House boat,  Bekal Stay Boat, Bekal House Boat Service, Near Bekal House boat.